Shaanxi History Museum is located in Xi'an, the provincial capital of Shaanxi, renowned as capital of 13 dynasties in Chinese history with rich cultural relics.
   In 1983, Shaanxi History Museum was planned to be constructed to the last wish of former Premiere Zhou Enlai and completed and opened to public in June 20, 1991. It is the first large and modern museum in China.
  This museum was designed by Ms. Zhang Jinqiu, Academician of Chinese Academy of Engineering, out of inspiration of the romantic charm of palaces in Tang Dynasty. It has a floor space of 56,000 sq m.
  Covering a total area of 11,000 sq m, it comprises 3 galleries respectively for regular exhibits, exhibits of special subject, and temporary exhibits. Among them the regular one is of greatest importance, which, representing a historic period from 1,150,000 years ago (the period of Lantian Man) up to 1840, showcases more than 3,000 pieces of treasured relics.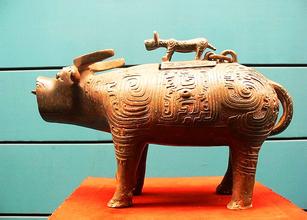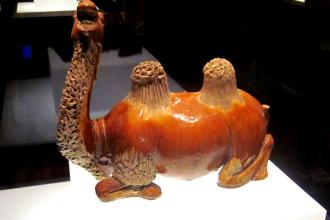 IV. Highlights of Relics
  Of the 375,000 pieces of objects, four most distinctive categories are bronze wares in Shang & Zhou Dynasty, pottery figures of all historic periods, gold & silver wares in Tang Dynasty, and mural paintings in imperial tombs of Tang Dynasty, among which 18 pieces (units) are identified as national treasures.
  There are altogether more than 2,500 bronze wares unearthed in Shaanxi with inscriptions as long as 41,000 Chinese characters, this province is honorably entitled as "An Underground History Book".