Hong Kong has two big amusement parks, and Ocean Park is the older of the two. It has an area of about 200 acres on the hills and shore of the southern part of Hong Kong Island. It is Hong Kong's favorite park, and attracts the most visitors. It is currently in the top 15 of the world's most visited parks.There are a lot of attractions related to displays of animal species such as dolphin shows and a jelly fish aquarium as well as big amusement park rides. The view of the sea along the coast is beautiful and fun when viewed high up from the roller-coaster rides or other thrill rides or the tram that passes over the sea that is a highlight in itself. Hong Kong Ocean Park can be a fun day with your family and friends.
  Hong Kong Ocean Park is a marine park,amusement park,animal laboratory,zoo combination. So while you can watch amusing dolphin shows in the poolside public stands,there is a serious research program for breeding and care of animals going on in the same area.The park's laboratory was the first to artificially inseminate and breed a bottlenose dolphin. The park is large enough to require several means of mass transit. It is divided into the Waterfront section and the Summit section. The rides are among the best in the world, and the animal exhibits including both land and water animals are world-class.
  The water animal exhibits include a walk through shark aquarium where you walk through an underwater tunnel and see species of sharks from around the world. In the Atoll Reef aquarium area, there are perhaps 2,000 fish of scores of species in an aquarium four stories tall. The stars of the underwater displays were rare giant Chinese sturgeons that were sent by the government of China. But several died, and the remaining two were sick and were sent back to China in 2009. It is estimated that there are only about 1,000 Chinese sturgeons left.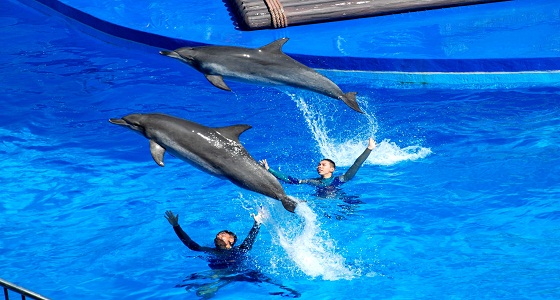 Ocean Park
  The land animal exhibits include aviaries, the Amazing Birds Show, and the Amazing Asian Animals Exhibit. In the Amazing Asian Animals Exhibit, you can find rare and interesting land animals. There are currently four pandas that are almost extinct in the wild. These animals are probably China's favorite, and mainland Chinese visit to see them. They are named An An, Jia Jia, Ying Ying, and Le Le.
  There may also be "small pandas", also called red pandas. These smaller animals are even more interesting than pandas in my opinion because they look like large, unusually long house cats. But their coloring and way of moving is extraordinary and non-catlike. I was amazed when I saw some. Most people don't know that this type of animal exists.They are not feline animals. Like pandas, they seem to sleep a lot.
  There are about 20 amusement rides.The rides includes a large Ferris wheel, two roller coasters including The Dragon that reaches a top speed of 77 kilometers an hour, a water ride, and a free fall drop deck called The Abyss that that is a tall steel girder tower 20 stories high that has two cabins that drop down to the ground in about 5 seconds. The newer rides are being built to attract young people looking for thrills.
  In order to get around in the park and see the views, there are also transportation rides including Ocean Express, a tram system, and the world's second longest outdoor escalator that transports people in the area. It is expected that there will be an MTR route to the park.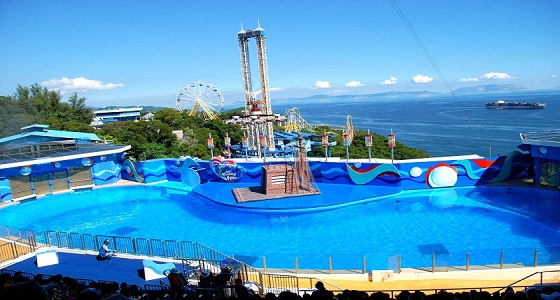 Ocean Park
  The park was opened on January 10, 1977. It was founded by Hong Kong Governor Sir Murray MacLehose and funded, built and managed by the Kong Kong Jockey Club that is a large private charity, horse racing, recreation, gambling, and sports organization.
  It is kind of unique because it is a non-profit and private large amusement park that also conducts laboratory research on breeding animals. Other things that make the park unique is that it has 4 giant pandas that are rare in the world and also a unique large jellyfish aquarium. China's government sent the pandas, and they are included in the Amazing Asian Animals exhibit.
  On July 1, 1987, the government established a trust fund with money from the Jockey Club under the Ocean Park Corporation Ordinance . The park administration was separated from the Jockey Club, and it became a non-profit entity of its own then.
  In the fiscal year 2007-2008, Ocean Park received about five million visitors so that it was among the top 15 theme parks in annual attendance that year. In 2005, Hong Kong Disneyland opened and is giving the park some stiff competition, but it is still the most popular park. To attract more visitors, it has had a 6 year plan for large scale development and adding land property. This development plan may cost as much as almost a billion US dollars.
  One of the newest attractions that opened in 2009 is a new rail system that can transport thousands of people in an hour. It is called the Ocean Express, and it runs parallel to a previously built cable car system. It is similar to the Victoria Peak Tram that transports people from Central District to the peak on Hong Kong Island.