The Po Lin Monastery is located in Ngong Ping on Lantau Island in Hong Kong with an altitude of 400 inches. Polin Monastery were surrounded by mountains with a beautiful view. Mountain Phoenix to the south of temple is the ideal place for viewing the sun-raise. The monastery was founded in 1906 by three monks visiting from Jiangsu Province from mainland China and was initially known simply as "The Big Hut". It was renamed to its present name in 1924. Po Lin Monastery had a history of over 70 years, but the temple is very large with beautiful view, and reputed as the "Buddhist country of the southern China". Po Lin Monastery was regarded as the first of four temples in HK. There is a Trikalea Buddhas in the main Hall. The Trikalea Buddhas represents the past, the present and the future. There is one playground in front of the temple, in the middle of the playground stands a three-layer altar similar to the the Circular Altar in Temple of Heaven.The three-layer altar faces the Giant Buddha in Temple of Heaven on the mountain opposite systematically.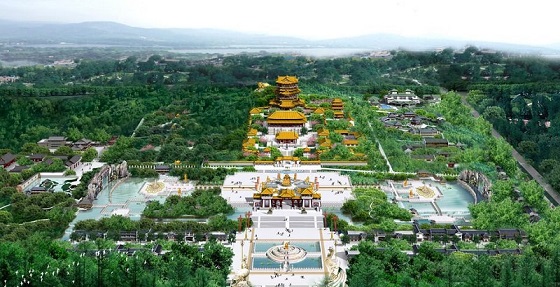 The Monastery includes the Great Hall of Treasure, the Maitreya Hall, the Hall of Ti-tsang Bodhisattva, the Weituo Hall, the Banruo Hall, the Sutra-Collection Hall and other impressive structures. In the Hall of Ti-tsang Bodhisattva there stands a bronze statue of Ti-tsang Bodhisattva, which weighs approximately 200 kilograms (441 pounds). There is also a 1,000 kilogram bronze bell.
  Located on the peak of the Muyu Mountain, the Tian Tan Big Buddha is perhaps the most famous. It depicts Sakyamuni who sits on a lotus pedestal in meditation position. Covering an area of about 2,339 square meters (2,797 square yards), the Buddha, with its pedestal, is about 34 meters (112 feet) high. The pedestal includes a three-storied exhibition Hall. It includes the Gongde Hall, the Fajie Hall, and the Sakyamuni Memorial Hall.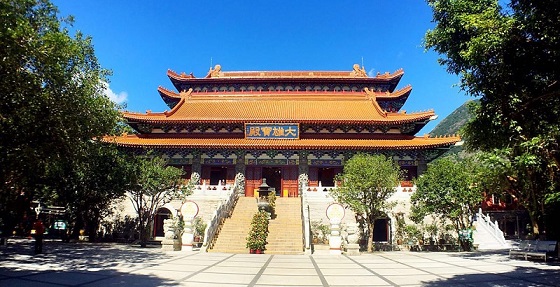 The Buddhist Relics Exhibition is held regularly in the Po Lin Monastery. Many precious Buddhist relics, including the Longcang Sutra and the Monk Huayan Preaching Buddhist Sutras (a painting) are displayed there. Buddhist disciples from all over the world visit.
  The Ngong Ping 360 consisting of the Ngong Ping village and a gondola lift running between Tung Chung and Ngong Ping, was built near to the Po Lin Monastery. The monastery is famous for many prominent architectural structures, such as the Main Shrine Hall of Buddha, the Hall of Bodhisattva Skanda. This monastery is also noted for making wooden bracelets that are only sold near the Tian Tan Buddha statue.