Putuo Zongcheng Temple
  Location: Chengde Mountain Resort, Chengde City, Hebei Province
  Built between 1767 and 1771 during the reign of Emperor Qianlong (1735-1796) of the Qing Dynasty, the resplendent and magnificent Putuo Zongcheng Temple (普陀宗乘之庙) is located to the north of the Chengde Mountain Resort in Hebei Province. Covering an area of 220,000 square meters, the temple is the largest one among the eight outlying temples of the Chengde Mountain Resort.
  The temple, originally built to celebrate Qianlong's 60th birthday, was used for Buddhist ceremonies, as well as a venue for the emperor to meet different ethnic envoys. It greatly follows the style of the Potala Palace in Tibet, and thus the name "Little Potala Palace".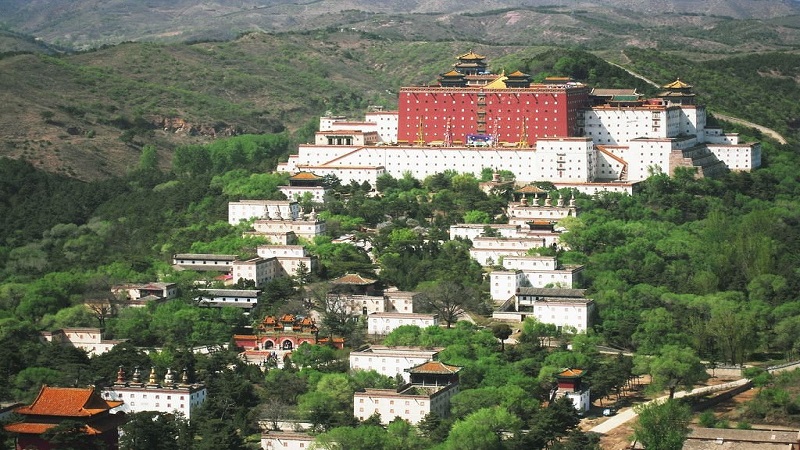 The temple subtly blends Han and Tibetan architectural styles, featuring about 60 elegant buildings, including halls and pavilions with copper and gold gilded roofs constructed along the natural hillock. The main buildings include the temple gate, Qianlong Tablet Pavilion, Five Pagodas Gate, Gateway with multi-colored tiles, the Grand Red Platform with the center of Wanfaguiyi Hall, the Hall of a Thousand Buddas and the Round Tower.
  Travel Tips:
  1. You can find many hotels nearby, such as Chengde Bifeng Hotel, Chengde Zhaolong Hotel, and Chengde Mountain Villa Hotel.
  2. Try the local snacks such as sumai and the fermented milk curd (milk tofu).
  3. Tourist souvenirs with local features include root carvings, walnut shell handicrafts and Teng's cloth-pasted pictures.