Victoria Harbour is a natural landform harbour situated between Hong Kong Island and Kowloonin Hong Kong. The harbour's deep,sheltered waters and strategic location on the South China Sea were instrumental in Hong Kong's establishment as a British colony and its subsequent development as a trading centre.Long famous for its spectacular views,the harbour is a major tourist attraction of Hong Kong. Lying in the middle of the territory's dense urban region,the harbour is the site of annual fireworks displays and its promenades are popular gathering places for tourists and residents.
  Victoria Harbour covers an area of about 41.88 k㎡ as of 2004. The eastern boundary is generally considered to be the line formed between the westernmost extremity of Siu Chau Wan and A Kung Ngam. The western boundary is generally considered to consist of a line drawn from the westernmost point of Hong Kong Island to the westernmost point ofGreen Island, thence a straight line drawn from the westernmost point of Green Island to the southeastern-most point of Tsing Yi, thence along the eastern and northern coastal lines of Tsing Yi to its westernmost extremity, and thence a straight line drawn true north towards the mainland.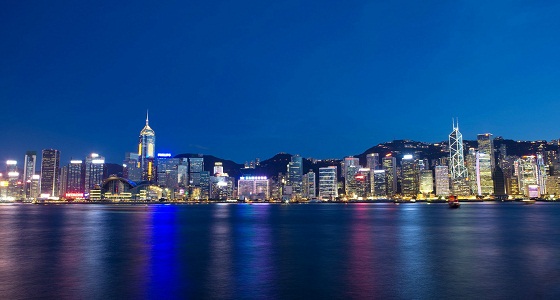 Victoria Harbour
  The Victoria Harbour is world-famous for its dramatic panoramic night view and skyline, particularly in the direction towards Hong Kong Island where the skyline of skyscrapers is superimposed over the ridges behind. Among the best places to view the harbour are the Peak Tower atop Victoria Peak, or from the piazza at the Cultural Centreor the promenade of Tsim Sha Tsui on the Kowloon side. Rides on the Star Ferry, particularly the route between Central and Tsim Sha Tsui, are another popular way to view the harbour and cityscape.