In ancient Tibetan language the Yarlung Zangbo means water flowing from the upper slope.This not only shows the origin of the Yarlung Zangbo River but also reveals the salient characteristics of this ''Heavenly River'. It extends over 2,000 km from its cradle to Pasighat where it leaves China. Of the total length,three-fourth of the river is above 3,000 meters high and some one-third over 4,000 meters. This height makes it the highest river in the world, being worthy of the title 'heavenly river.
  The Yarlung Zangbo River, which finds its source on the Gyima Yangzong Glacier with an elevation of 5,590 meters in Zongba County in the northern foothills of the Himalayas, belongs to the water system of the In dian Ocean. It flows from west to east across the southern section of the Qinghai-Tibet Plateau, passing through Shigatse,Lhasa, Lhoka and Nyingchi prefectures and incorporating tributaries including the NYang Qu River, the Lhasa River. the Nyang River and Peilung River.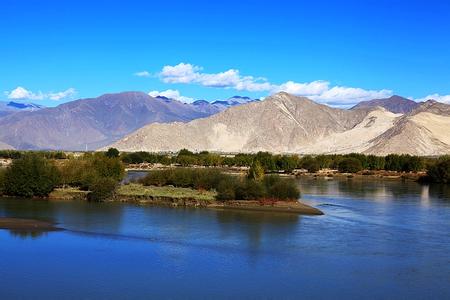 Yarlung Zangbo Grand Canyon
  With a sharp contrast of terrains for its peaks and valleys so close to each other, the Yarlung Zangbo Grand Canyon is home to some of the most breathtaking scenery in the wold.Spanning from Pelung Town of Pome County to Pad Town of Monling County, the Yarlung Zangbo Grand Canyou Scenic Spot Area, about 200 kilometers long, boasts its open and flat valley, soaring snowcapped mountains and dense primeval forests.