The Lama Temple is located at the northeast corner of Beijing City. It was originally used as official residence for court eunuchs of the Ming dynasty and was converted to the royal court of Prince Yongzheng during the 33rd year (1693) of Kangxi's reign of the Qing dynasty. In the 3rd year of Yongzheng's rein (1725), it was elevated to imperial palace for short stays away from the capital with the name changed to Yonghe Palace. During the 9th year of EmperorQian Long's reign (1777), it was changed into Lama Temple.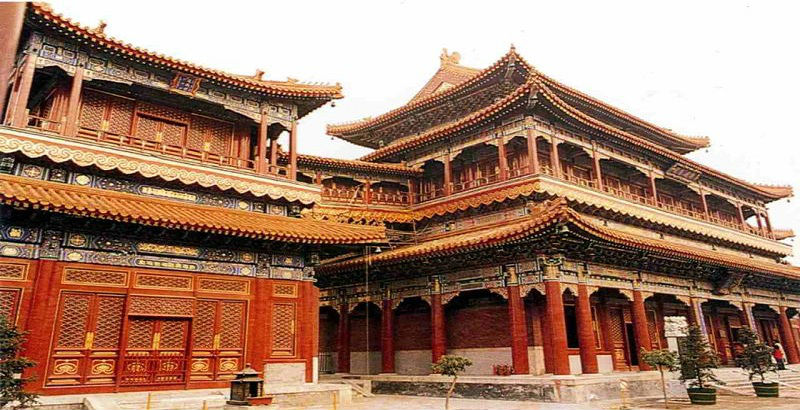 The dimensions of the temple are magnificent, which have five courtyards in a row. The front structural layout in the temple is bright and spacious dotted with screen walls with carved murals, lifeless things and decorated archways. The interior pavement leading to the main halls and the evergreen pine and cypress appear to be rather peaceful and secluded in the environment. The back structural layout is composed of a cluster of building, halls and pavilions intermingled with each other, with upturned eaves and ridges beautifully interwoven presenting a picturesque sight.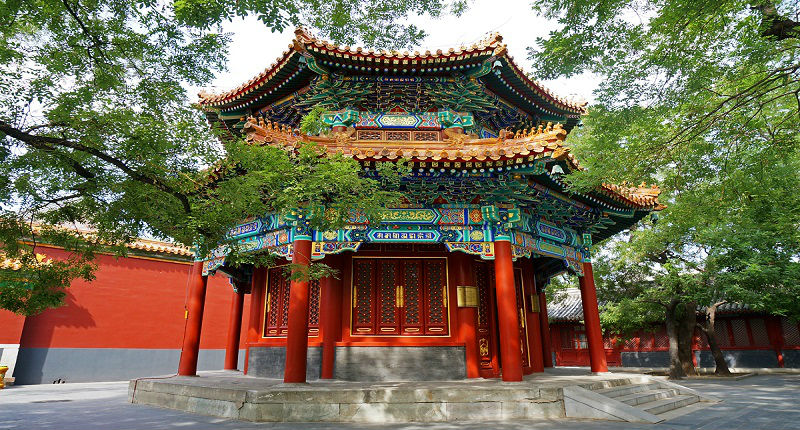 Palace of the Heavenly King, Yonghe Palace, Eternal Blessing Hall, the Hall of the Wheel of the Law and Hall of boundless Happiness are the main structures. Amongst which the Hall of the Wheel of the Law is extremely imposing; the overall arrangement of its plane diagram forms a cross sign and there are five petty garrets on the ceiling decorated with small lama pagodas, which are characterized by the style of lamaism. The Hall of Boundless Happiness is the biggest building in the Lama Temple  flanked by the Hall of Everlasting Health and the Hall of Peace. They are connected by a corridor of the Suspension Hall, which form a cluster of majestic dignified buildings. In the Hall of the Boundless Happiness, stands a famous huge statue of Buddha, 26 meters high carved out of a whole piece of sandalwood; it is the biggest wood-carving Buddha in the world.