The Ming Tombs  are located in Changping district, about 50 kilometers to the northwest of  Beijing city.

  During the Ming Dynasty, there  were 14 emperors from the Yongle Reign of Zhudi to the Chongzhen Reign of  Zhuyoujian. 13 emperors had their tombs built there except Zhuqiyu (the Jingtai  Reign) who was buried at the Golden Mountain in the western suburbs of Beijing,  hence the name of the Tombs of 13 Ming Emperors (The Ming Tombs).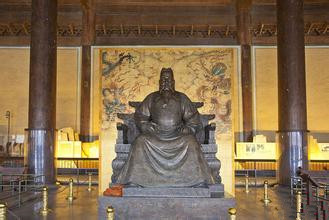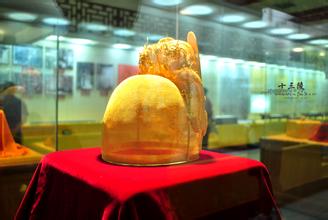 Encompassing an area of 10  hectares, Changling, the tomb for Emperor Zhudi and his wife lies at the foot of  Tianshoushan (the Mountain of Heavenly Longevity). It comprises three courtyards  with Changling Hall, or the Lingsi Hall on par with Taihe Hall (Hall of Supreme  Harmony) of the Palace Museum, Dacheng Hall of Confucius Temple in Qufu of  Shangdong Province and Tiankuang Hall of Dai Temple at the foot of Taishan. The  Changling Hall covers an area of 1956.44 square meters, that surpassing that of  the Taihe Hall (Hall of Supreme Harmony). It is supported by 60 precious  columns, each made of a whole trunk of nanmu and remaining intact without any  protection after 500 years.