The Temple of  Heaven is located in the Chongwen district in the southern part of  Beijing. It was built in 1420 during  a time when many other important buildings were constructed in Beijing. Tiantan served as a place of ceremonies and rituals for the Ming and Qing emperors.
  The Palace of  Abstinence is located near the western entrance of the temple. Before each  ceremony, emperors of the Ming and Qing dynasties held a three-day fasting period during  summer and winter festivals. The emperors spent two days fasting in the Forbidden City and completed the last day of fasting in the Palace of Abstinence.
  South of the  Echo wall stands the Altar of Heaven, built entirely of white marble. The altar  has four entrances and a flight of nine steps leading down in every direction.  At the center of the upper terrace lies a round stone surrounded by nine  concentric rings of stones.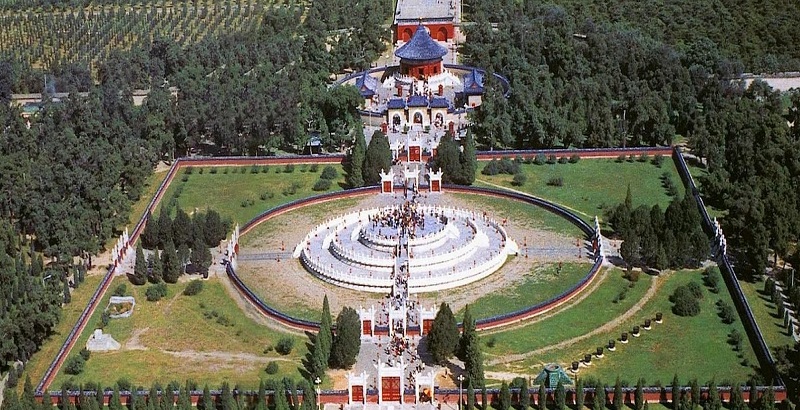 Even the numbers  of the carved balustrades on these terraces are also multiples of nine. When you  stand in the center of the upper terrace and speak in a low voice, your voice  will echo back much louder to yourself than to others, as the sound waves are  reflected back by the marble balustrades to the focal point at the center.
  The main  building in the compound is the Hall of Prayer for Good Harvests. The entire  structure was joint by wooden bars, laths and brackets, without using steel and  concrete. The four large pillars in the center are known as the Dragon Well  Pillars with each pillar representing one of the four seasons.
Temple of Heaven tour experience the sacred past of the capital
Temple of Heaven is a place of worshipping for Ming and Qing emperors.

Take a tour to explore the hall of prayer, the dragon walls and the stunning greenery around the temple. Enjoy the play of colors and of number 9. Book your tour to learn more!