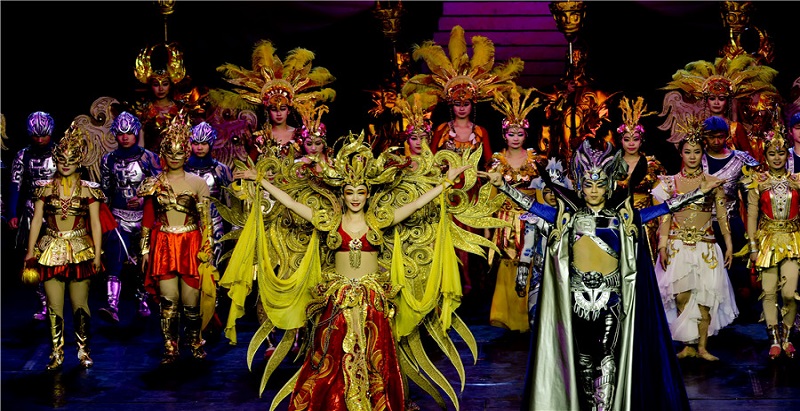 An original Chinese play, "The Golden Mask Dynasty," was held August 16 at OCT Theater in Beijing Happy Valley. This play was sponsored by Overseas Chinese Town, OCT, which invested 200 million yuan into building the OCT Theater for the play.
  Set in the Golden Mask Dynasty, a legendary age in China, the story tells how a queen, who wears a golden mask, creates a splendid dynasty. The play has eight chapters and includes more than 200 actors from China and abroad. Produced by Chinese playwrights, directors and designers, the play features Chinese dances, acrobatics, costumes, and lighting and acoustics.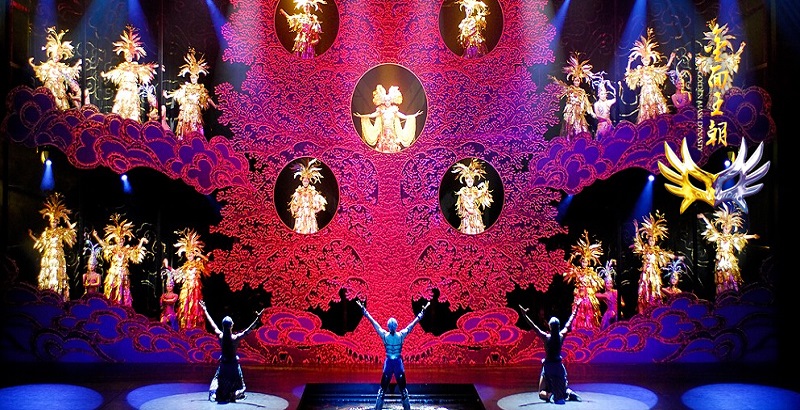 The Golden Mask Dynasty is a mythical age, and the play tells a fairy-tale like story of war, royal banquets, and romance. The play has 20 different dance scenes, ranging from war scenes to romance. The director invited composers Liu Gangbao and Li Cangsang to compose the music jointly. Composer Zhang Qianyi, who wrote the "Qinghai-Tibet Plateau," composed the theme song "The Words of Love" for the Golden Mask Dynasty, and vocalist Tang Jing sang the song. The play's wardrobe designers were inspired by the Sanxing Mound relics. They used blue and gold as the play's main colors, representing yin and yang, men and women, and heaven and earth. They created more than 500 costumes.
Inclusions
1:Show tickets
2:Hotel pick up at 4pm, drop off at hotel at 8:30pm
Exclusions
1:Gratuities (optional)
2:Meal