Running Tiger Spring (Hupao Spring)
  Running Tiger Spring (Hupao Spring) is ranked the third in China, according to scientific research on the quality of the water of the spring, followed by Leng Spring in Zhejiang and Hui Spring in Wuxi, Jiangsu Province. The pleasures to be gained from Running Tiger Spring  are listening to the spring, viewing the spring, tasting the spring, feeling the spring, even dreaming that the spring enables every thought about the spring to come to mind.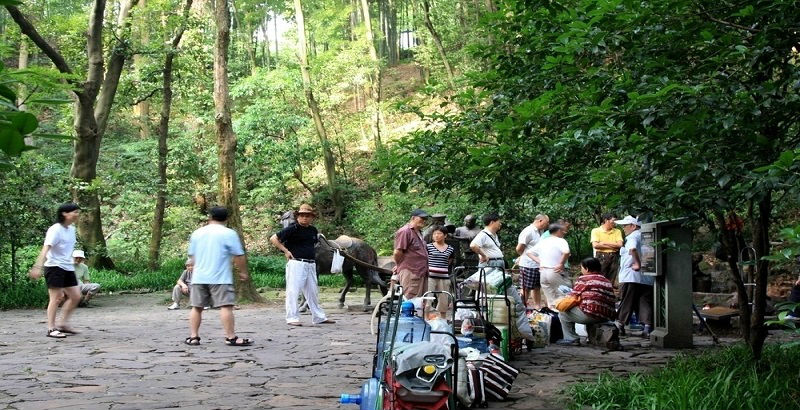 The spring is well famed for its unique fountain. People of all ages highly praise it after tasting a cup of Longjing Tea made of water from it. Many laudatory poems about the spring have been composed by famous Chinese poets, both in ancient and in modern times. No surprise then that Longjing (Dragon Well) tea and Running Tiger Spring bring out the best in each other and are acknowledged as 'two wonders of West Lake'.
  Running Tiger Spring is at the foot of Daci (Great Compassion) Hill, five kilometers away from Hangzhou city, which stretches between West Lake and the Qiantang River. A temple named after Daci Hill was erected there during the Tang Dynasty (618 - 907). Legend has it that a monk named Xingkong lived in Daci Temple. Coincidentally, he dreamed one night that an immortal told him that two mighty tigers would move a fountain there, just after he had made plans to leave the temple, due to lack of water. To his surprise, two mighty tigers sure enough came in the following day from Mountain Hengshan and dug a hole in the spot where the spring immediately gushed forth. Hence, the spring was named Running Tiger Spring.
  Actually, Running Tiger Spring forms as the result of underground water seeping through veins and cracks within quartz sandstone that is not eroded by acid materials. Due to its low content of mineralized ingredients and its high percentage of radon (a radioactive element), the spring water, which tastes pure, sweet and cold, is an ideal beverage for good health. Most interestingly, the spring water rises three millimeters above a bowl edge without overflowing even if a coin is put into the bowl, a scientific phenomenon made possible by the high surface tension of the spring water.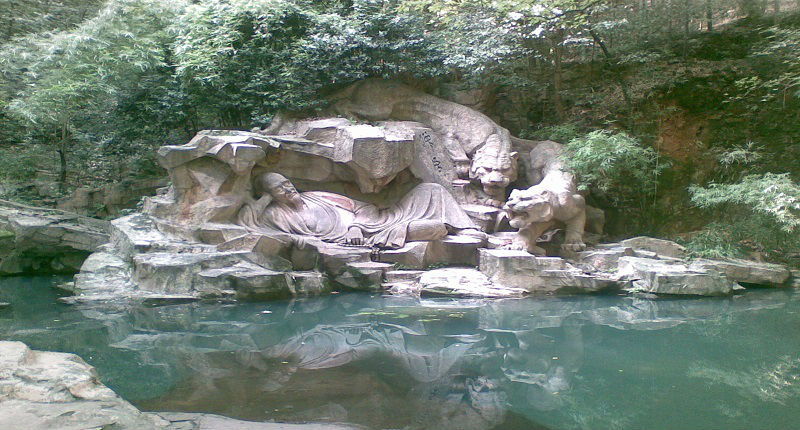 Today, the spring and the surrounding twisting valley have been turned into Tiger Running Spring Forest Park. On the site is Li Shutong Memorial erected in honor of the scholar and hierarch, who was outstanding in the fields of music, drama, painting, and calligraphy, and entered into Buddhism in Daci Temple in 1981.
  No matter when locals ponder over the new top ten scenic spots of West Lake in Hangzhou, Running Tiger Spring must be chosen for its excellent temperament.