Qingming Riverside Landscape Garden is a grand cultural garden located on the west bank of Dragon Pavilion Lake in Kaifeng city, Henan Province. The garden consists of several complexes which are re-creations based on the painting, Riverside Scene at the Qingming Festival.
  The huge painting is a masterpiece of Zhang Zeduan who is a famous painter in the Song Dynasty. It vividly portrays the prosperous scene of the capital of the Northern Song Dynasty, the present Kaifeng. The painting is now kept in the Forbidden City Museum of Beijing.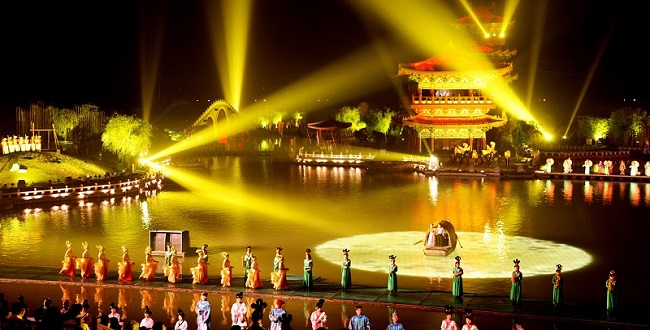 In the garden, you can boat in the Bian River, pass through the winding bridges and streets, climb the city walls and enjoy the folk acrobatics, such as shadow play and cock-fighting… all of this will make you feel that you are lost in a dream and going back to the Song Dynasty, more than 1000 years ago.
  The imperial garden of the park
  All the palaces and gardens have been carefully arranged. Standing inside the gardens and visible from outside, are the pavilion and the pagoda while in the distance a waterfall comes into view. Among these a majestic pavilion will draw our attention, which is named of Fuyun (whisking the cloud) Pavilion. It was also the place where important royal documents and traditional Chinese painting and books are stored during the Song Dynasty.
  Rainbow Bridge
  Another scenic spot called Rainbow Bridge is a well-known feature in the Park. It is a replica of one of the ten ancient timber bridges. The bridge is 5 meters high. Four columns replicate the poles that were weather vanes at the time of the Song Dynasty. A white crane sits on a disk at the top of each column and they turn to face into the wind, indicating its direction.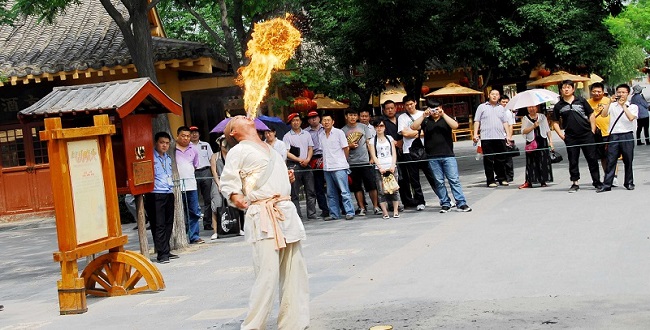 Colorful performances
  At each end of the Rainbow Bridge you will find many performances about folk custom. On the streets you can find acrobats, puppet shows, cockfighting and even a marriage scene. While in the park you will have the opportunity to see exhibits of folk customs and traditional crafts ranging from hand embroidery and displays of woodcut pictures and official porcelain and so on.
  One of the distinctive things you will encounter when visiting the Park lies in participation. You can play a role in a traditional Chinese marriage or be a Number One Scholar in the imperial examinations of ancient times.