Introduction
Lulang means long king valley in the Tibetan language better described as a place to make anyone forget home. Lulang Forest is a plateau forest situated in Lulang town in Nyingchi County on the Sichuan- Tibet highway at an elevation of 3700 meters. The forest occupies an area of 1Kilometers wide and 15 kilometers long covered by alpines, different plants and villages nestled in the middle of glacier mountains. When seen from a distance under a pillow of clouds and glacier peaked mountains, the alpine trees form idyllic scenery depicting the most decorated natural feature.

The forest has delightful scenery as the seasons progress from summer when the flowers bloom, streams gurgle and grasslands thrive to autumn when all the leaves turn yellow and later red except the evergreen pines to the cold winter when snow falls on the forest and the glaciers shower the whole area with a white blanket. Locals also always scatter in the forest at all times to hang out and relax with nature, interacting with wild animals and getting lost in the beauty of nature.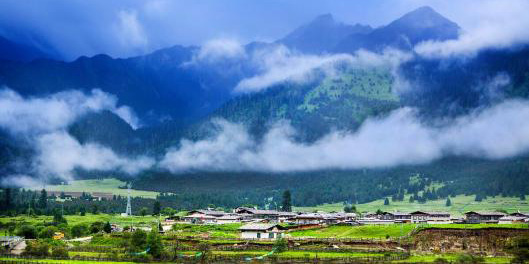 Things to see and do on a visit

As a famous scenic area in Lulang Town, Lulang Forest with alpine scenery embraced by castle peaks from low to high is full of dense bushes and spruce pine trees along the long-narrow valley dotted with meadows and streams. There are viewing platforms sitting in the perfect location along the highway for visitors to have a vista view and appreciate its stunning nature, even encounter the Namjagbrawa Peak and Gyala Peri Peak if you are super good luck. With enough time, you can have leisurely hiking inside Lulang Forest Scenic Area and find more idyllic scenery by sightseeing scenic spots, like flower sea, pastureland, local villages, etc.

Lulang Flower Sea of Tibet

Lulang Flower Sea comes to life in the late spring and summer between the months of April and June. With wildflowers like galsang in full bloom without any much effort, beautiful Azaleas also dominate the sea.

Lulang Five Villages

The Lulang Five villages are located on a valley in the middle of mountains and pasturelands. They are named Bomi, Loba, Gongbu, Menba and Dengren. These villages are set in a quiet and tranquil environment made more beautiful by the sea of flowers and they bear different cultures and traditions making them very interesting to visit.

Natural Pastureland

The pasture at the forest becomes dotted with cattle from locals who let their livestock feed on sunny days and also when the weather is favorable.

What go to eat at the Lulang forest sea of Tibet?
Stone pot chicken is a famous feature of Lulang Forest Sea in Tibet. The stone pot for cooking is made by local people with a whole stone. The stone pot chicken is a Free Range, with some Tibetan medicine and palm ginseng added. It tastes very delicious.

Warm Tips
We suggested that you can join Tibet tour to Lulang forest sea in Lhasa and visit many other scenic spots in Linzhi by the way.

If you plan to take a deep tour of Lulang Forest Sea, you need to prepare waterproof clothes, medicines, sleeping bags, etc. in advance. Lulang Forest Sea (Lulanglinhai) is free to visit.

Don't look down on Altitude stress. Be prepared to bring anti altitude reaction products.