Nanjing Ming city wall is made up of four parts. From the outside first, there is Outer City, Inner City, Imperial City and Palace City. In 1390, Outer City was built with a length of 180 kilometers (112 miles) in a diamond shape to strengthen defenses though it does not exist any more and only the names of the 18 gates are still used now. The City Wall we can see today is mainly the relic of the Inner City.The Imperial City was built to protect the Palace City, which is nicknamed 'Forbidden City' as it is the center of the four walls. Currently the Ming city wall is "the Inner city wall" preserved best.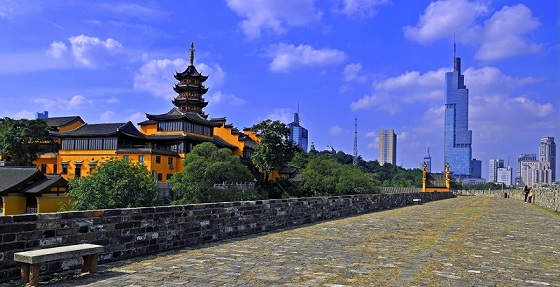 Nanjing city wall was built from 1366 to 1393. There were altogether 280 thousands labors to build it and used up 350 million bricks. It lasted 27 years for finally completing. Different from the old ways for building city wall, based on the previous city wall, according to the mountain and water direction in Nanjing, the city was built. The city wall face the Qinhuai river from the south, Zhongshan from the east, houhu from the north, small mountains from the west. There were natural stereotype military defending system around the city wall. Among them, the city wall winded across 35.3 kilometers and formed the longest city wall existed in China and listed as No. 1 in the world. The inner city wall is listed as world No. 1 city wall in world records. And the outer city wall is over 60 kilometers.
  The city wall was built along the river and the mountain, is the best example of Chinese ritual system and natural environment. Nanjing Ming city wall is the best case for studying ancient urban architecture. From history value, appreciation value, archaeological studies, architecture design, scope and function, Nanjing Ming city wall all has incomparable value and is another magnificent project after great wall. The well-preserved Nanjing Ming city wall is around 25.1 kilometers. It is the longest and largest, best-preserved city wall in the world. In 1956, it was listed as antique protection project in province Jiangsu. In 1988, the whole city wall is listed as national key relics. In 2012, being city wall of Ming and Qing Dynasty, Nanjing Ming City Wall is listed as Chinese world cultural heritage applying-name.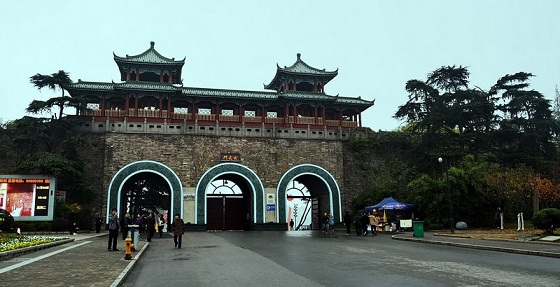 Located on the Southern Bank of the Yangtze River with abundant rainfall, rolling hills and meandering rivers, it is a difficult task to undertake such a huge project. However, the ancient Chinese conquered all the difficulties with their skills and built the walls by using materials appropriate for the terrain, creating Nanjing's City Wall. The wall is an important cultural relic for the inscriptions on the bricks. The inscriptions come in two forms. One is from scholars and officials, the other from the artisan or folk people.