The Foreigner Street
  "Dali Foreigner Street" located at Huguo Road of ancient city Dali, west originated from Dianzang road while turn crossing with main street "Boai, Fuxing".  At the beginning of Republic of China, people in Yunnan were strongly against Yuanshikai declaring himself as emperor, thus started to fight for protecting the nation, hence got the origin for the road name "Huguo". Huguo Road goes to west from east with a length over 185.6 meter and a wide over 5.4 meter.
  "Dali Foreigner Street" located at the upside Huguo Road. "Dali Foreigner street" first appeared in 1980's. Most foreign tourist resided in Hongshancha hotel, therefore many restaurants, bars, bicycle renting and photographic shops catering to foreigners were opened nearby. Since then, a street focus on foreign tourist came into being. From March 1997, Dali municipal government renovated Dali Foreigner Street. The renovated Foreigner Street is 5.4 meter wide with two 2.4-meter wide side-road.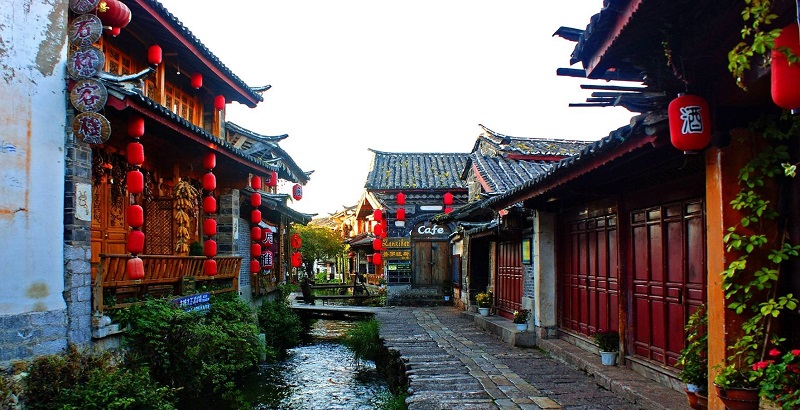 Foreigner Street
  As time passing by, ancient city Dali became the key tourist spots, hotel Hongshancha became a hotel focus on foreign tourists. Because Hotel Hongshancha located at western part of Huguo road, thus, Road Huguo became "distributing center" for foreign tourist in Dali. Currently, more and more tourist both domestically and globally visit Dali foreign Street for sightseeing, working and leisure. Accompanied with more and more tourists, food shops, tea shops, antique shops, dying shops, painting shops are opened along the Foreigner Street. Nowadays, Dali Foreigner street become the most popular tourist spot in Dali.