Confucian temple is a temple for the veneration of Confucius and the sages and philosophers of Confucianism in Chinese folk religion and other East Asian religions. They were formerly the site of the administration of the imperial examination in China and often housed schools and other studying facilities.
  Nanjing Confucian temple lies in the Gongyuan street, north bank of Qinhuai river, district Qinhuai, city Nanjing. It is a temple for worshiping Confucian. It is the first highest-level school and is one of four cultural temples in China. Nanjing is the cultural center in ancient China. Nanjing Confucian temple is the cultural and science center. Nanjing Confucian temple is also a famous building complex in China south-east. Currently it is one part of tourist site along Nanjin River qinhuai area.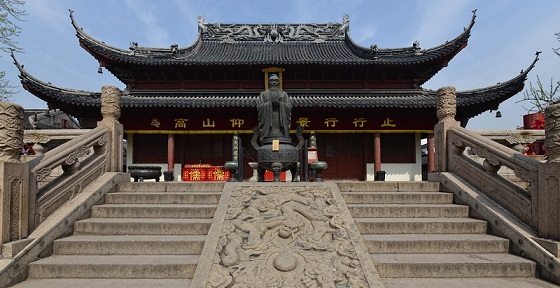 Nanjing Confucian temple is one of the biggest ancient market in China and listed as one of four famous antique markets in China. The other three include Tianqiao in Beijing, Chenghuang temple in Shanghai, Xuanmiaoguan in Suzhou. Nanjing Confucian temple was initially built in Eastern Jin (337年). In (1034年), it is renovated as Confucian temple. Since then, many important rich family moved Nanjing to live. There are hundreds of scholars,militarist and politicians coming here and made big achievements. They all wrote famous articles. Nanjing Confucian temple was once destroyed by Japan in Second World War. After renovation, many visitors coming. Currently, Nanjing Confucian temple is listed as a national 5A tourist spots and well-known around the world.
  In Nanjing Confucian temple , the Dacheng Hall is recommended on your trip. It is 16.22 meters high (about 53 feet) and 28.1 meters (about 30 yards) wide featuring a 1.5-meter-high (about 5 feet) pedestal. There are two worthwhile attractions found in the inner hall. One is the largest figure of Confucius in China. The other one is the beautiful collection of 38 vivid panels which are made by various jade, gold and silver, detailing the life of Confucius. Out of the hall, you will see the bronze statue of Confucius as well as the white marble statues of his eight disciples.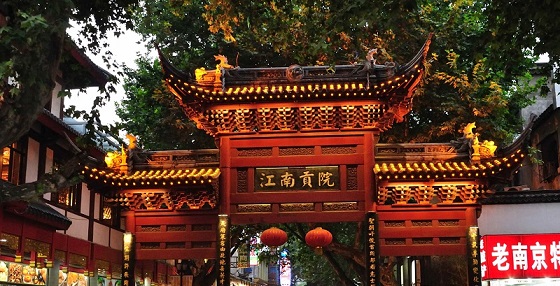 A fantastic insight into how ancient Chinese governments choose officials can be gained from visiting the Jiangnan Gongyuan. The development of Gongyuan began in the Southern Song Dynasty (420-589), expanding into the Ming and Qing Dynasties, until in the reign of Emperor Guangxu in the Qing Dynasty. It developed to be the biggest exanimation school in China. The main building of Gongyuan is the three-storied Mingyuan Tower which is surrounded by 20,644 examination cells, called 'haoshe' in Chinese. Now, a specialized museum on the imperial civil examination system is built here.