Zhonghua Gate has the original name as Jubao Gate. Zhonghua Gate is one of the thirteen gates of the inner city wall of Ming Dyasty. Zhonghua Gate is the biggest, best-preserved, the most complicated castle style Gate in China. It is reputed as the No. 1 Castle gate in the world. The history of Zhonghua Gate can date back the south gate built by Southern Tang Kingdom and Dynasty Southern Song. From 1369 to 1375, Zhonghua Gate was enlarged and renovated. Zhonghua Gate face Qinhuai river from its front and rear, Changgan bridge from the south and bridge Qinhuai from the north. Zhonghua Gate had a strategic position in ancient Nanjing. Divided from Zhonghua Gate, the easter gate and western gates area became both the most prosperous area in Nanjing. Zhonghua Gate has a strict and complete layout with a unique structure.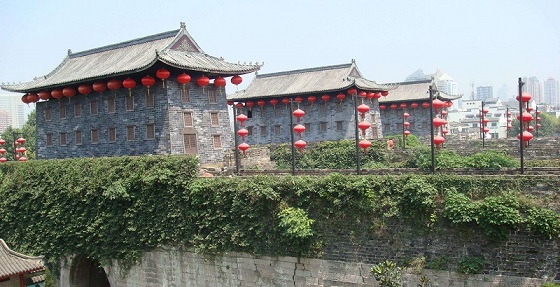 Zhonghua Gate is a key study material for ancient military facility. In 1931,the gate name was changed into Zhonghua Gate. Three Chinese characters inscribedby Jiang Kai-shek in person are still visible on the city-gate. Covering an area of 16,512 square meters, the entire castle extends 129 meters from south to north and 118 meters from east to west,with the highest point of the city-wall being 21.45 meters. The city-gate is extremely solid as it was built completely with lime,tung oil and glutinous rice gruel as adhesives. In 1988, Zhonghua Gate was listed as the national key relics protection unit and currently one important component of Confucians temple and Qinhuai landscape zone. Being a part of Ming city wall, Zhonghua Gate was listed as Chinese world cultural heritage applying name in 2012.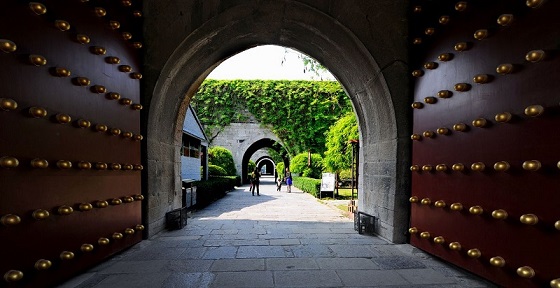 The gate was made of huge strip stones and large Chinese brick. Its dimensions were 118.5 m from east to west, and 128 m from south to north. The ramparts were 20.45 m high. The total area enclosed was 15,168 square meters. Three barbicans were connected by four arched gates, each of which was equipped with a Qianjinzha which could be opened up and down, as well as a pair of wooden doors. At the outside of the east and west of barbican were constructed 14 soldier staying holes (7 facing to the east and 7 facing to the west). There are 27 soldier staying holes altogether in all the barbican and two paved ramps for the troops riding to the top.
  As the biggest city-enclosure in the world at present,Zhonghau Gate has an important position in the military,history, culture and the history of city-construction.