Hanshan Temple (Cold Mountain Temple)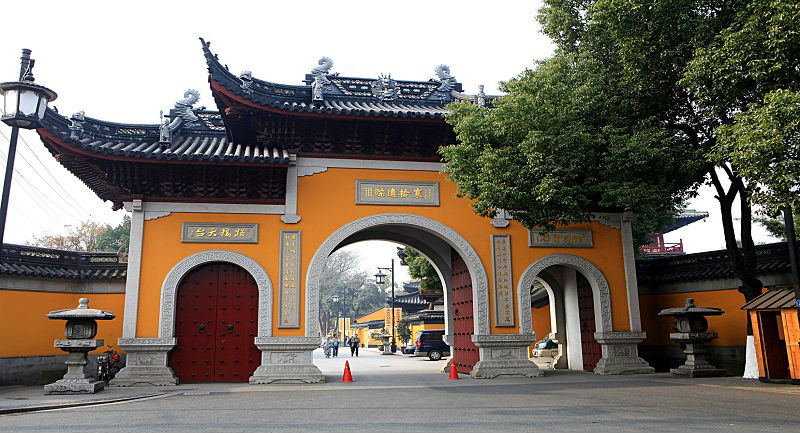 Have you ever heard of the poem A Night Mooring near Maple Bridge written by Zhang Ji, a poet of the Tang Dynasty (618-907) In this poem, Zhang described the midnight bell rings of the Hanshan Temple. Since then, the temple has become famous, especially for its bell rings and Buddhism culture.
  Cold Mountain Temple is situated five kilometers (about three miles) from Fengqiao Old Town in Suzhou . It is said that in the Tang Dynasty, a famous monk Han Shan came to take charge of the temple, hence its name. Building originally commenced during the Liang Dynasty (502-557), and was repaired again in the following dynasties. Now, covering an area of about 10,600 square meters (about three acres), it presents the architectural style of the Qing Dynasty (1644-1911). It includes the Grand Prayer Hall, Sutra-Collection Building, Bell Tower, Fengjiang Pavilion and Tablets Corridor, etc. In 1995, a five-storey Buddhism pagoda as high as 42 meters (about 138 feet) was erected called Puming Pagoda, which then became the symbolic building of the temple. There are many more historical relics in the temple, such as the statue of Han Shan, the stone tablet inscription of the poem A Night Mooring near Maple Bridge and some other tablet inscriptions written by famous intellectuals of ancient China.
  Being one of the most famous temples in Chinese history, Hanshan Temple often boasts about its bell rings. However, the best known bell described in Zhang Ji's poem disappeared a long time ago. The bell in the tower now, was modeled on the previous one in 1904. Every year on New Year's Eve in China's lunar calendar, the bell is tolled to pray for the happiness and safety of the coming New Year. This festival attracts thousands of tourists both at home and abroad.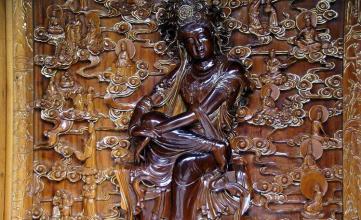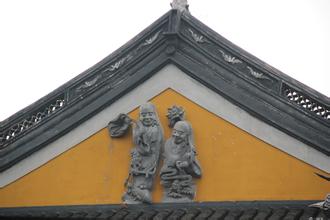 Cold Mountain Temple is also a Buddhism temple. The statue of the Buddhist patriarch Sakyamuni is there for people to make offerings to in the Grand Prayer Hall. In the Hongfa Hall, there are bronze statues of three eminent monks: Xuan Zang (a Tang Dynasty monk and translator), Jian Zhen (a Tang Dynasty monk who once went to preach Buddhism in Japan) and Kong Hai. Kong Hai was a Japanese monk who studied Buddhism in China in the ninth century. He once visited Hanshan Temple when he stayed in China and after he returned to Japan, he started to preach Buddhism in his country. Until now, Hanshan Temple is still one of the most important places to hold Buddhism activities.
  Around the Cold Mountain Temple, you can also enjoy the beautiful scenery of the Maple Bridge, where Zhang Ji's boat was once moored, and get a realistic feel of the ordinary life of the people living in the Fengqiao Old Town. You can also have a look at the famous Jinghang Canal, which is the longest ancient man-made canal in the world.