1. Terracotta Warriors
Terracotta Warriors is a collection of terracotta sculptures depicting the armies of Qin Shi Huang, the first Emperor of China, aiming to protect the emperor in his afterlife. It is entitled as the eighth world wonder which surprised whole archaeological fields.
It divides three pits which contains more than 8,000 soldiers, 130 chariots with 520 horses and 150 cavalry horses. Even soldiers have different expressions and postures, and it seems impossible at that time, which laid a solid magnificent meaning in Chinese history.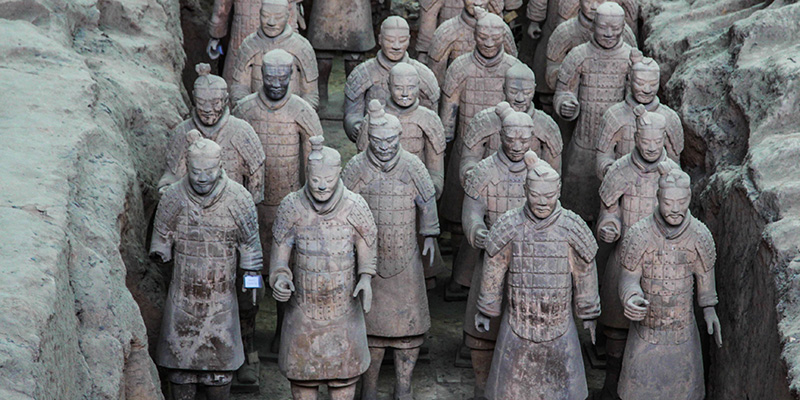 2. Xian City Wall
Xian City Wall is one of the oldest and best preserved Chinese city walls, as well as being one of the largest ancient military defensive systems in the world.
Xian Ancient City has four gates at south, north, east and west, the four directions: Changle Gate, Anding Gate, Yongning Gate and Anyuan Gate. Most of the travelers would love to ride a bike on the wall to experience this ancient Chinese building, it's quite large than you imagine. In the evening, it is lit up by colorful lamps, shimmering delightful views.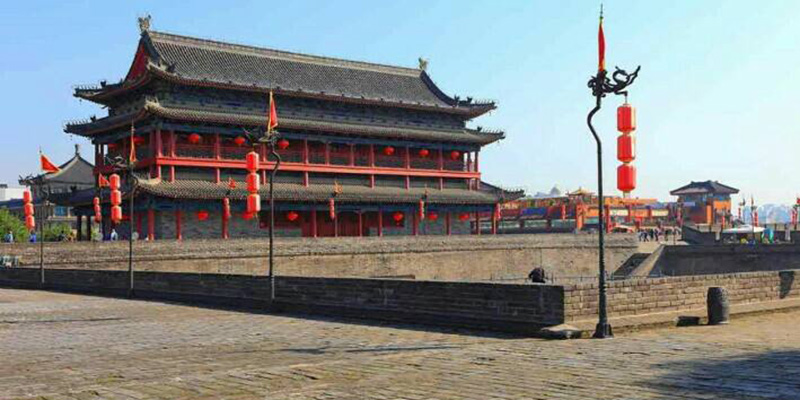 3. Big Wild Goose Pagoda
As the symbol of the old-line Xian with more than 1300 years, Big Wild Goose Pagoda is a well-preserved ancient building and a holy place for Buddhists. Standing in the Ci'en Temple complex, it attracts numerous visitors for its fame in the Buddhist religion, with its simple but appealing style of construction, and its new square in front of the temple. On the specific time in the day and night, the music fountain would display grand water show by using the modern technique, which distinctively contrasts with this old-centuries pagoda.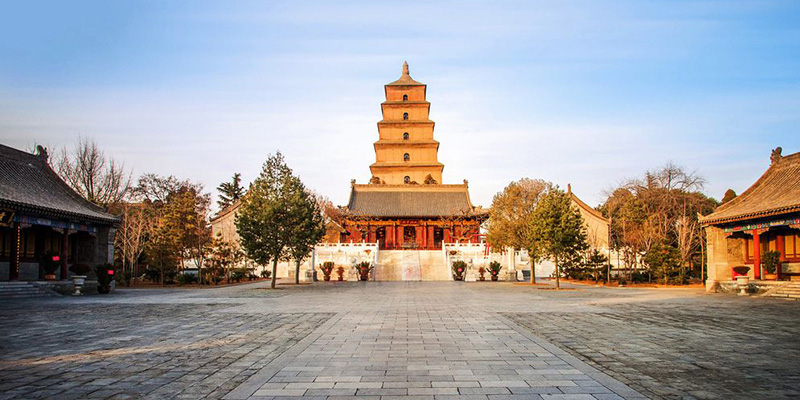 4. Shaanxi History Museum
Shaanxi province is one of the important areas where the Chinese civilization was born and developed, so well as rich cultural heritage and profound cultural accumulation. And it is known as the "pearl of the ancient capital and the treasure house of China", is an art palace displaying the history and culture of Shaanxi and the ancient Chinese civilization. 
The collection of Shaanxi History Museum is up to 1,717,950 cultural relics ranging from the ancient time when people starting using simple tools to all kinds of implements in social life before 1840, the time span is over one million years. 
Cultural relics are not only abundant and complete but also of high grade and wide value. Four most distinctive categories are bronze wares, pottery figures, ancient coins, gold and silver wares and mural paintings for imperial tombs, among which 18 pieces (units) are identified as national treasures.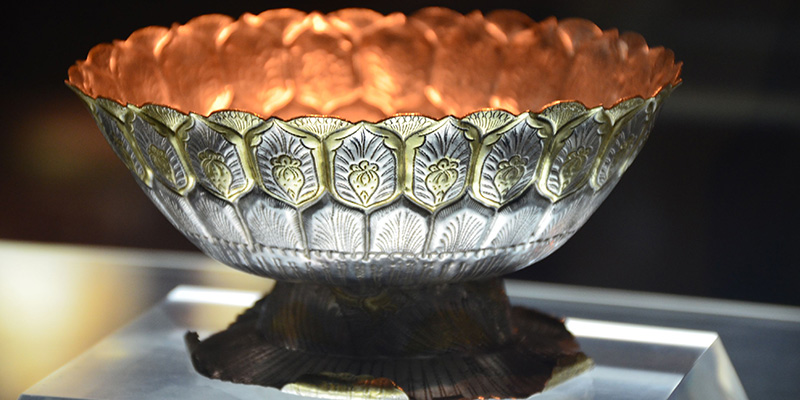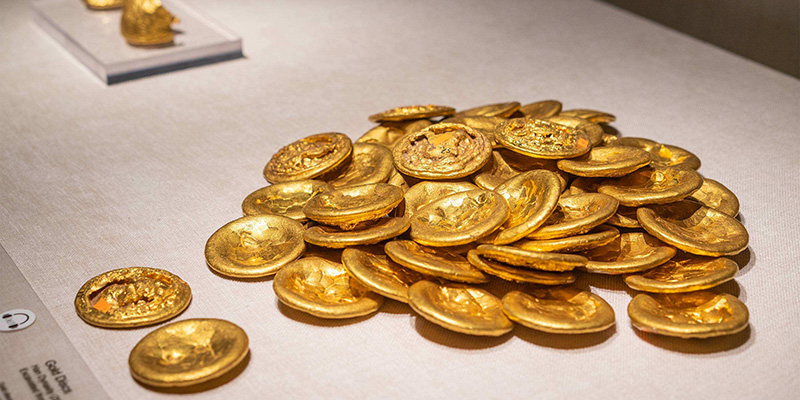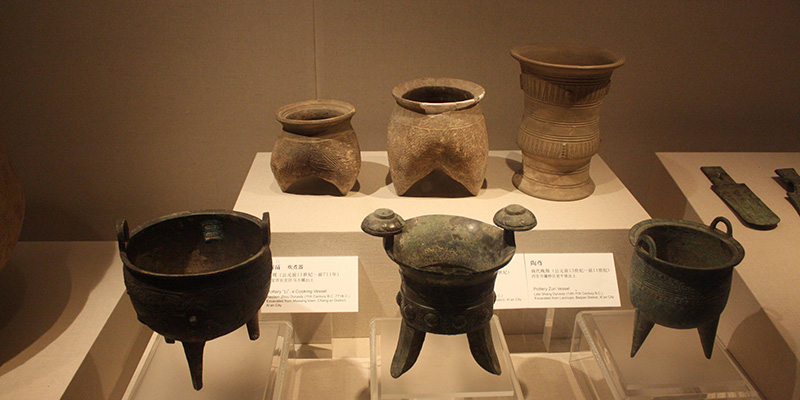 5. Muslim Street
The Muslim Street is renowned as a popular food street in Xian, selling delicious street food such Rougamo, biang biang noodles, mutton and bread pieces in soup, dumplings etc, which attracts millions of travelers to enjoy unique Xian food.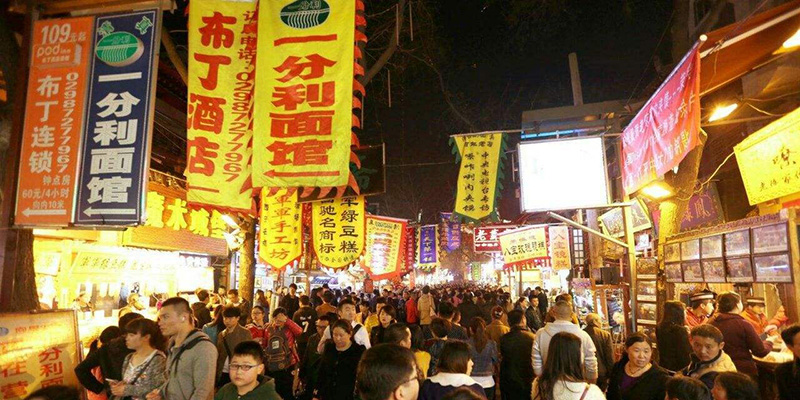 6. Huaqing Hot Spring
Situated at the northern foot of Mt. Lishan in Lintong County, 30 kilometers from Xian City, Huaqing Hot Spring is famed for both its dainty spring scenery and the romantic love story of Emperor Xuanzong and his concubine Yang Guifei in the Tang Dynasty, one of four beauties in Chinese history. In the evening, you can see marvelous history performance-The Song of Everlasting Sorrow, describing their mournful love story.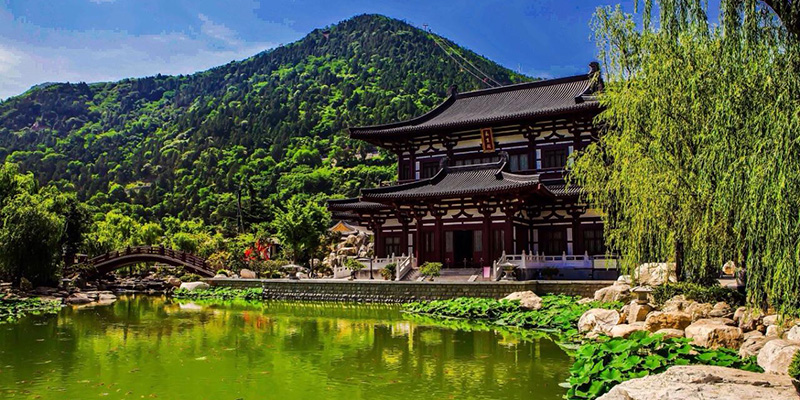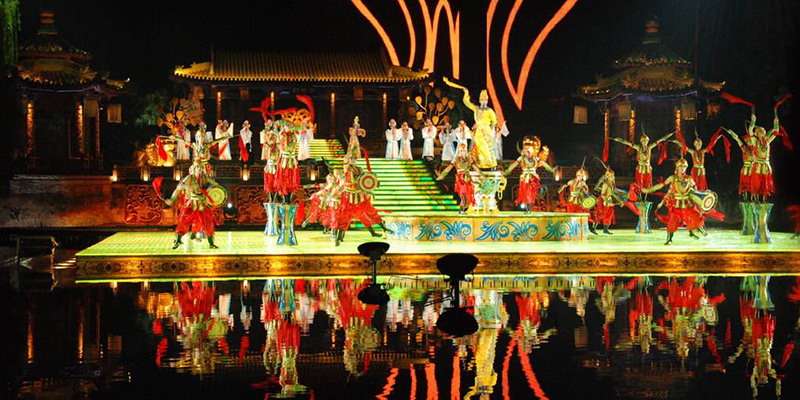 7. Mount Hua
Huashan mountain is known for its majestic breathtaking crags, steep paths, beautiful scenery and it is said to be "The Number One Precipitous Mountain under Heaven". The mountain is also one of China Five Sacred Taoist Mountains.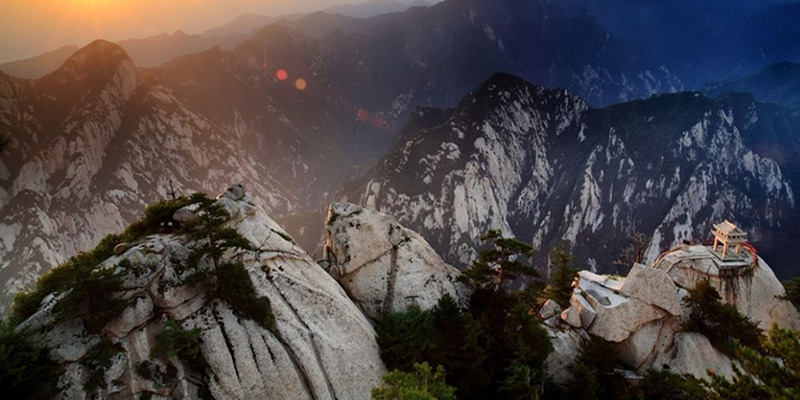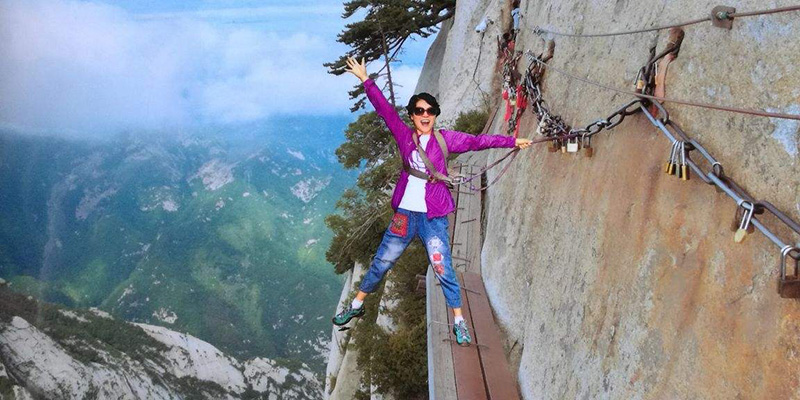 8. Bell and Drum Tower
The Bell and Drum Tower locates in the city center, which are the symbol of Xian, functioning as a time clocker in the ancient town. They look very grand and spectacular when colorful lamps lit up in the evening.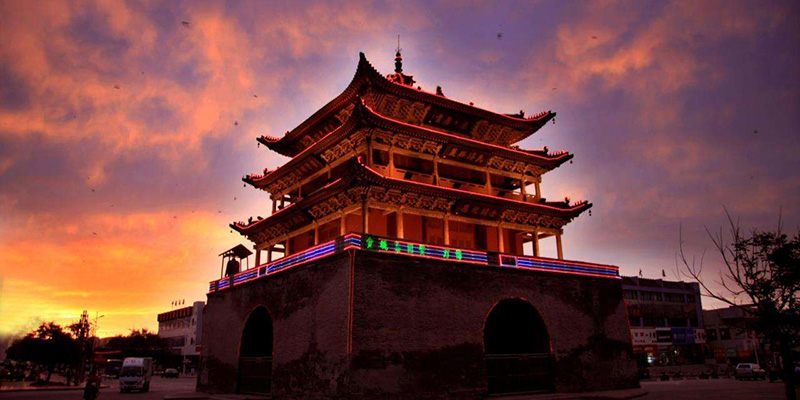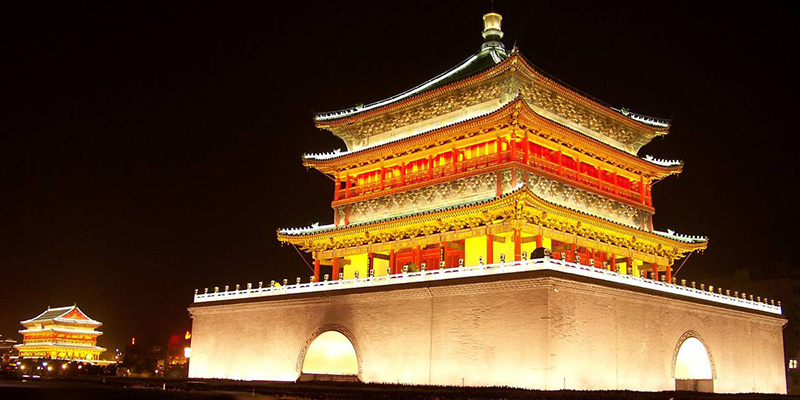 9. Great Mosque
The Great Mosque of Xi'an is a tranquil and historic mosque that has served the Muslim community for more than a millennium. The largest and best preserved of the ancient mosques of China, its buildings are a fascinating fusion of Chinese and Arabian styles. You can take a glimpse of prosperous Tang dynasty.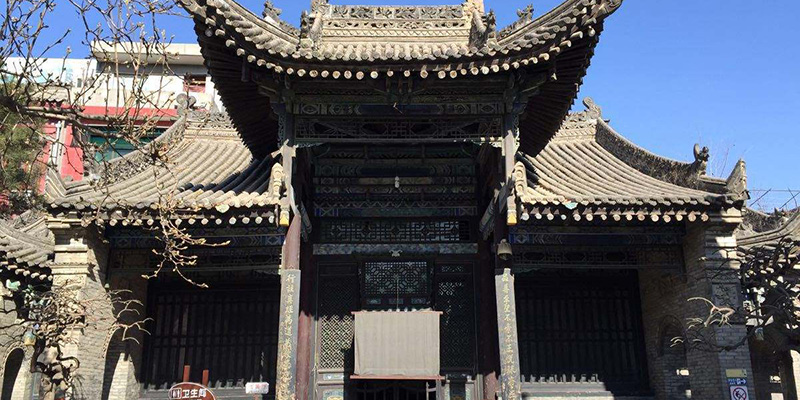 10. Xian Banpo Museum
Xi'an Banpo Museum is the largest and best-preserved Neolithic Yangshao cultural village sites at China's Yellow River basin which consist of the remains of a 6,000-year-old village, once home to a matriarchal clan community. It is the first Prehistoric site museum in China.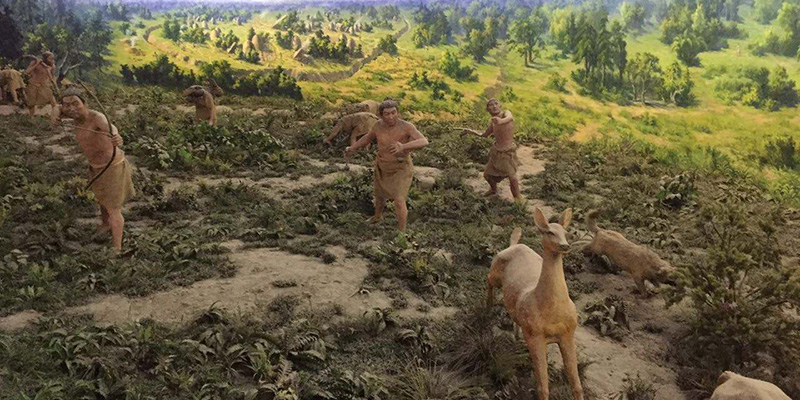 11. Tang Dynasty Show and Dumpling Banquet
The Tang Dynasty Show in Xian" is treasured as a national art that reflects the glory and richness of the Tang Dynasty. During the show time, you can also have a dumpling banquet which is only can be found in Xian.