As many tourists flocks to China for a short stay at the airport or travel, there are several tips you shouldn't miss for your Beijing layover tour.
1. Visa Application
There are 24 hours and 144 hours for free visa policy. If you have valid passenger ticket for connecting travel (including an airplane ticket, ferry ticket or train ticket), to a third country or region. (ie: USA-Beijing-Russia)
NOTE: 24-hour TWOV is not available to passengers traveling on the following passports; Afghanistan, Azerbaijan, Iran, Iraq, Kazakhstan, Kyrgyzstan, Malaysia, Nigeria, Oman, Pakistan, Syria, Saudi Arabia, Sri Lanka, Thailand, Turkey, United Arab Emirates and Yemen.
NOTE: 144-hour visa-free is valid for the following passport holders:
24 Schengen Agreement Countries: Austria, Belgium, Czech Republic, Denmark, Estonia, Finland, France, Germany, Greece, Hungary, Iceland, Italy, Latvia, Lithuania, Luxembourg, Malta, Netherlands, Poland, Portugal, Slovakia, Slovenia, Spain, Sweden, Switzerland
15 Other European Countries: Russia, the United Kingdom, Ireland, Cyprus, Bulgaria, Romania, Ukraine, Serbia, Croatia, Bosnia-Herzegovina, 
Montenegro, Macedonia (FYROM), Albania, Belarus, Monaco
6 American Countries: the United States, Canada, Brazil, Mexico, Argentina, Chile
2 Oceania Countries: Australia, New Zealand
6 Asian Countries: Korea, Japan, Singapore, Brunei, United Arab Emirates, Qatar
After you land at Beijing Capital International Airport, go to China Inspection and Quarantine and get Visa-free Permit Stamp at 24/144-hour International Transfer (Apply to Leave the Airport). In general, it will take 1.5-2 hours to get out. In addition, you'd better spare 2 hours for returning back to the airport for clearing customs and etc.
2. Popular Attractions for Beijing Layover Tour
There are many options for your Beijing layover to choose depending on the length of your layover. These sites are popular sites for travelers to explore.
1.Great Wall of China
The Great Wall of China is a must-see site for every traveler, it's World Heritage Site listed by UNESCO. When you were a kid, you were probably told that the Great Wall of China was the only man-made object seen from outer space. It's quite long stretching around 21,196 kilometers. And it divided several sections. Take this in the priority on your Beijing layover tour.
2.Forbidden City
Forbidden City is palace for Ming and Qing dynasty for over 500 years. The historical architecture and many preserved traditional painting are awe-inspiring. Take your time and soak up the history of China.
Notice: Forbidden City closes on every Mondays.
3.Summer Palace
Summer Palace is the perfect summer resort for the royal family, which has the most captivating landscape in Beijing. Take a leisurely stroll around or take a boat to appreciate appealing lake and bridges.
4.Temple of Heaven
Temple of Heaven is one of the most well-known religious complexes in China and it was the place for emperors holding annual ceremonies and praying to Heaven for a good harvest. It's the idol place for travelers to explore traditional Chinese culture.
3. Where to Store Your Luggage
You don't need to bring check-in luggage, and you can bring your handbag with you for your layover tour. It's very safe to keep it in our private car if you booked a tour or you can use Luggage Left service at the airport, service fee varies from luggage size, it wouldn't cost more than 10 dollars within 24 hours layover.
4. How to Get to the Hotel?
We advise you to book a hotel near Bejing airport, most of them provide free ferry service.
If you want to go to the downtown area, you can take subway.
Two stops to the downtown area are Sanyuanqiao and Dongzhimen.

Beijing Subway Map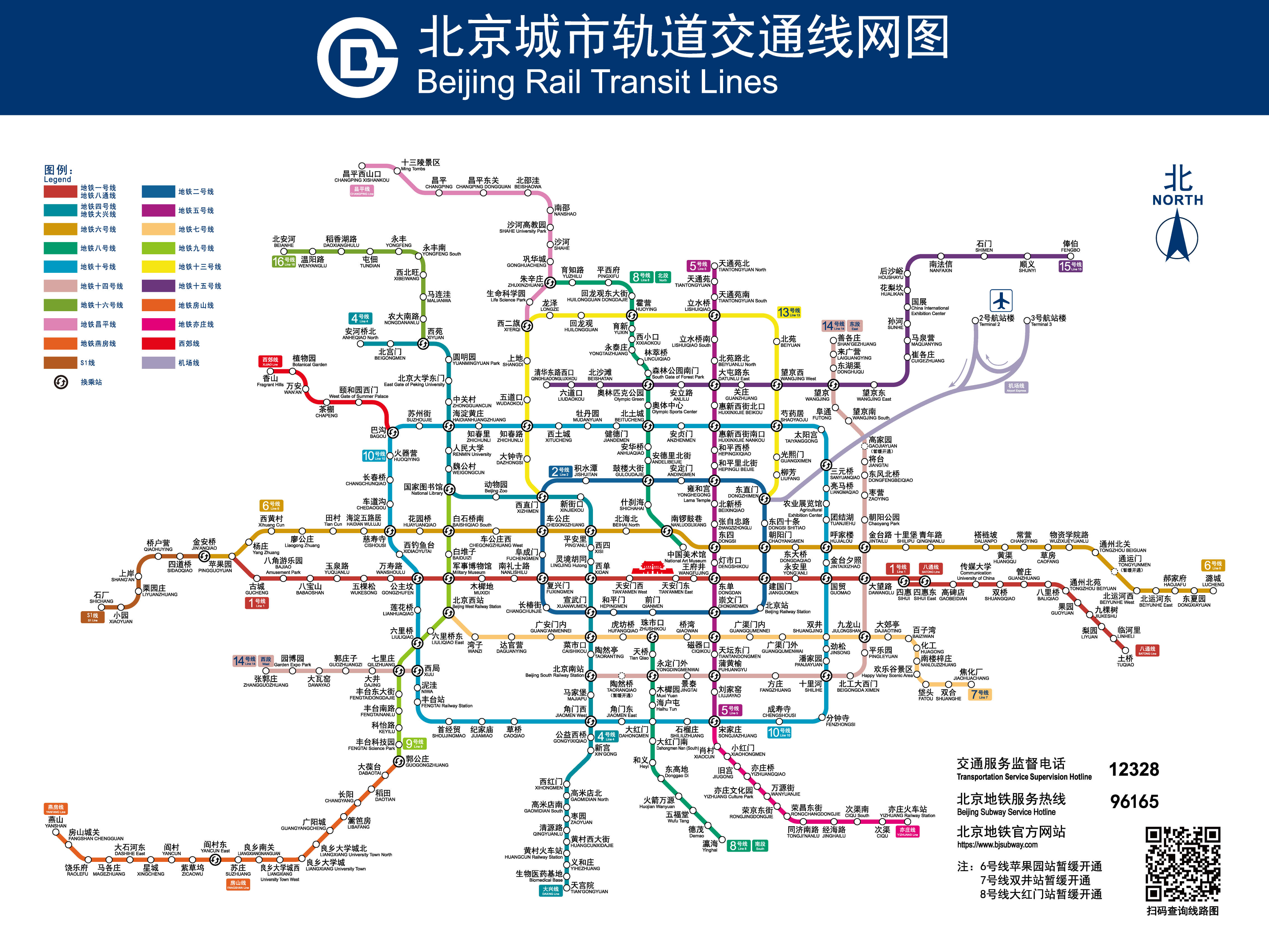 Or You can take a taxi, for taxi price varies from location and time(Day or Night). Try to avoid taking a taxi during morning Peak (7:00-9:00 am) and evening peak (17:00-19:00 pm). Remember to bring cash in RMB with you!
5. What to Eat?
The famous Peking Duck is on the top list of your Beijing layover tour. Other recommended foods are spicy hot pot, dumplings and Chinese hamburgers.
6. Consider Taking a Private Tour
If you want to have a more flexible Beijing layover tour, find a local travel agency. It's time-saving and more convenient for travelers. Agency will provide private vehicle and professional tour guide serving for your memorable Beijing layover.