The Great Wall should be on the bucket list for every traveler when visiting China, it stretches from Liaoning Province in the east to Gansu Province in the west, covering almost all north China for total length 21,196.18  kilometers.
The construction of the Great Wall traced back to the Western Zhou Dynasty(1046-771 BC), and it much prevented invaders from the inside land. Then it was repaired and built in every dynasty, hence it's not a symbol of a military defensive project in the ancient time, but also the witness of Chinese history.
Why do you want to visit Great Wall once in your life?
1. Amazed at the wisdom of ancient Chinese people for building a marvelous fortification.
2. Acquire knowledge from the historic Great Wall, the symbol of the defensive project, which witnessed glorious Chinese history.
3. Marvel at World Heritage Site of China and one of Seven New Manmade Wonders in the world.
4. Experience the longest Great Wall in the world and discover the difficulty of climbing.
5. Explore many captivating stories related to this wonderful project.
How to choose the Great Wall for hiking?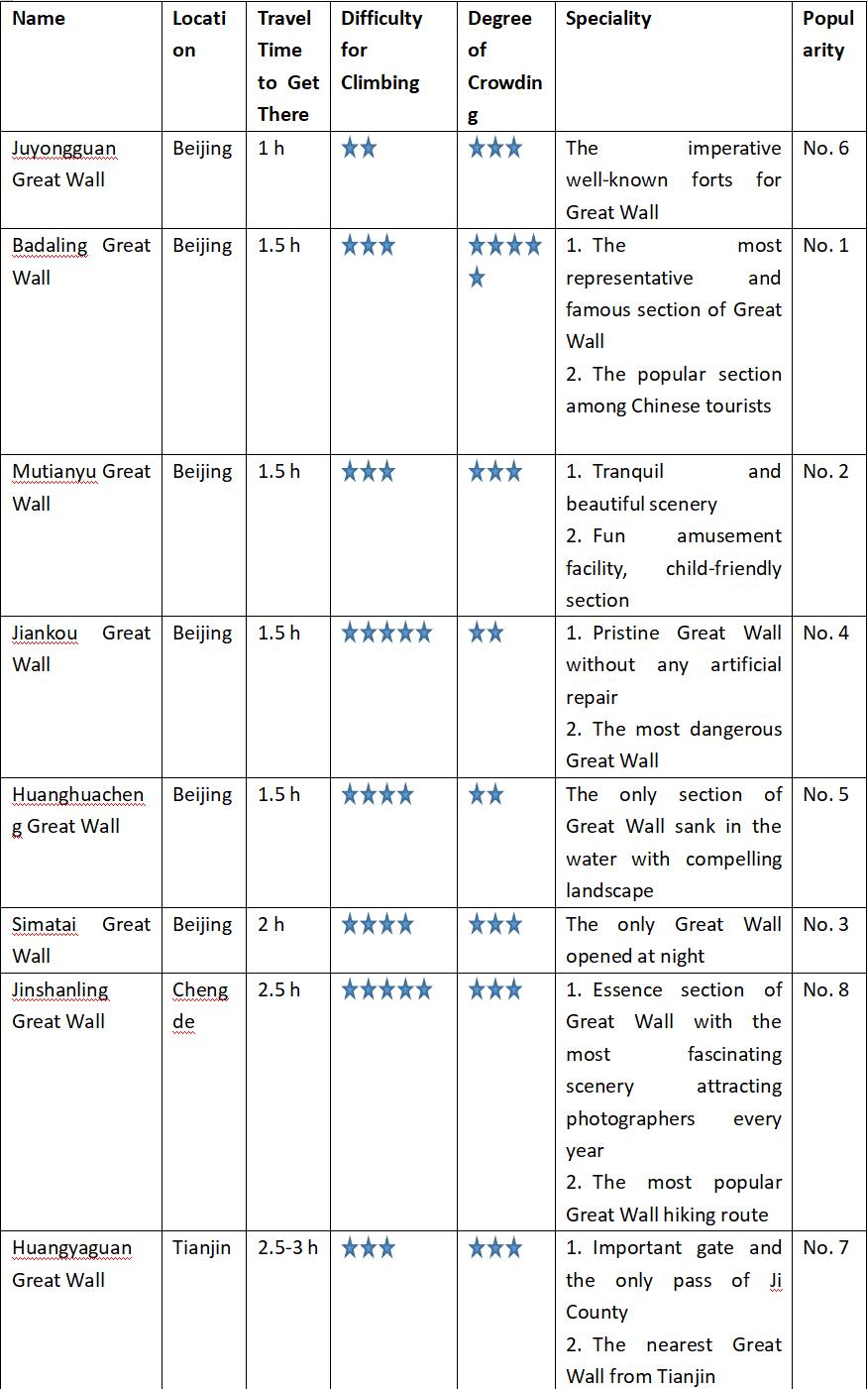 Travel Tips
Visiting Hours: about 2–3 hours
Best Seasons: Spring and Autumn (March to May and September to November)
Check the weather before departure! Find a fine day to explore the Great Wall.
Choose a route that fits your physical ability and stamina.
If you have limited time or want an in-depth trip, we advise you to choose a professional local travel agency arranging a Great Wall tour. It will save your time and energy to find vehicle, restaurant or hotel in a different country. Besides, you'll learn mysterious stories from your professional tour guide and have memorable travel experience.
Don't visit the Great Wall in Chinese major holidays. Here are the major holidays.
1. New Year's Day(January 1st)
2. Spring Festival(January 1st-15th in Chinese lunar calendar)
3. Tomb Sweeping Day(April 5th-7th )
4. International Labor Day(May 1st)
5. Dragon Boat Festival(May 5th in Chinese lunar calendar)
6. The Mid-Autumn Festival(August 15th in Chinese lunar calendar)
7. National Day(October 1st-7th)
Do pay attention to your steps. There are loose rocks or bricks at wild Great Wall sections.
Experience amusement facilities-Toboggan or cable car at Mutianyu section. It's an interesting way to explore the beauty of Great Wall.
Items List to Bring
1. Comfortable hiking shoes are important because the stone steps on the Great Wall are incredibly steep and uneven, some are near vertical.
2. There are not so many restaurants around Great Wall and hiking consumes lots of energy, we advise you to bring some snacks and bottled water in case you're hungry and thirsty.
3. Hat, sunglasses, sunscreen protecting from sunburn.
4. Gloves and hiking stick.
5. Toilet paper or wipes. There is no toilet for the wild Great Wall.
6. Camera. Bring a camera to shoot the beat picture of Great Wall.