More
  The Lingering Garden was located at 338 liuyuan road, outside Changmen, Suzhou. the Lingering Garden is famous for the exquisite layout and queer stone. It is listed as one of four famous gardens together with the The Humble Administrator's Garden in Suzhou, Summer Palace in Beijing, Summer resort in Chengde.The Lingering Garden is a large ancient private imperial garden covering area over 23300 square meters. The Lingering Garden is on behalf of landscape in Qing dynasty. The architecture inside is famous for exquisite crafts. The hall is spacious and splendor. The yards is full of changing. One do not need to go outside but obtaining all the interests outside. The garden builder use the best spacious arts in landscape. There are four parts of the garden, eastern is mainly for architecture, the middle is famous for watery mountain and gardens, west is mainly for the fake mountain, and the north is mainly for landscaping. The Lingering Garden is the first national key protection relics by the State Department in 1961. In 1997 The Lingering Garden was listed as world heritage by UNESCO and in 2001 The Lingering Garden was listed national 5A scenic spot. The garden also stores two UNESCO Intangible World Heritage Arts; Pingtan and Guqin music.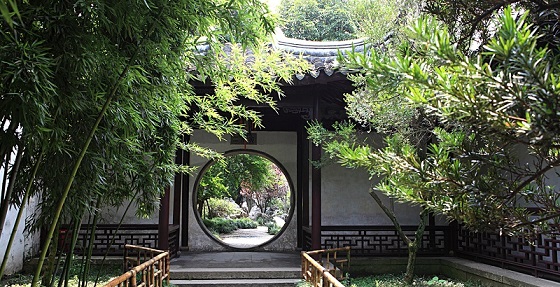 The Lingering Garden has changed hands several times after built hundreds of years. Each owner did his best to renovate and expand it. The garden was first built in 1593 during the Ming Dynasty (1368 - 1644) by a retired official named Xu Tai. During the Qing Dynasty (1644 - 1911), it was bought by Liu Shu. As a calligrapher l, he carved masterpieces on both sides of the corridors of the buildings. He had also collected odd stones in the garden. The succeeding owners followed his model when doing restoration and renovation work. Almost demolished in the 1930s, the garden was renovated by the government and then opened to the public.
  As a famous garden in Suzhou, the Lingering Garden try to make breathtaking natural landscapes within limited space. There are ancient temples, private gardens, architecture, trees and flowers together forming a beauty.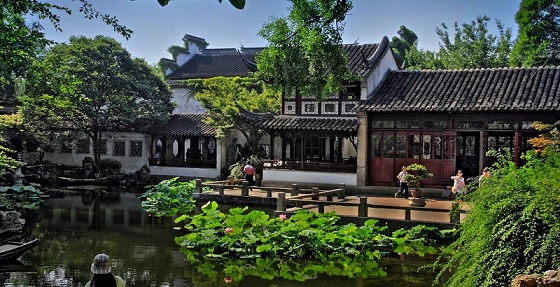 Of the four parts, the central part is the essence of the whole garden. This part was the original Lingering Garden while the other three were added during the Qing Dynasty. After going through winding corridors from the gate, one reaches the central part. The central part is divided into two parts: the western part and the eastern part. The former features in pools and hills while classical buildings dominate the latter. The Celestial Hall of Five Peaks in the eastern part is the largest hall in the garden. The western part is famous for its natural scenery. It is a large rockery built from stacked stones and soil during the Ming Dynasty. Maples cover the hill. When all the leaves turn red in autumn, it is extraordinarily beautiful.