One of the most popular tropical seaside holiday areas in Hainan Province is located 3 kilometers (about 1.9 miles) southeast of downtown Sanya, between Mt. Tuziwei and Mt. Luhuitou. Dadonghai has a crescent-shaped beach 2.3 kilometers long (about 1.4 miles) and clear blue sea, sunshine, white sand and green trees creating a beautiful location in the Torrid Zone.
  The famous beach is ideal for diving, beach sports, bathing and sunbathing. And as it has everything to support a seaside tourist location, including a large shopping square on the shore, amusement companies and a famous dive company that can provide scuba diving, ship diving, seabed strolling, speed boat, motorboat, luxury yacht, sail boat, ocean fishing, beach sports and underwater photography, this location is renowned for water activities in Sanya and throughout China. Dadonghai has spring-like weather all year round. The water temperature is about 20C degrees even in winter, hence its reputation as an idyllic spot for winter holidaying and relaxation. It also has several shopping areas; the largest shopping center is the Sanya-Ruihai Shopping Park, then Dadonghai Pearl Square, Tropical Rain Forest Square, Seashore Lovers Road and Seafood Barbecue Square, are all able to offer leisure for tourists. 300 meters (about 328 yards) east along the beach is Seashore Park. Standing on the top of the small mountain inside the park, you have a panoramic view of the beach.
  This area is a wonderful outdoor swimming and bathing place. At the thought of vernal sunshine and soft sea breezes you will be agreeably dissolved into the blue sky and seawater.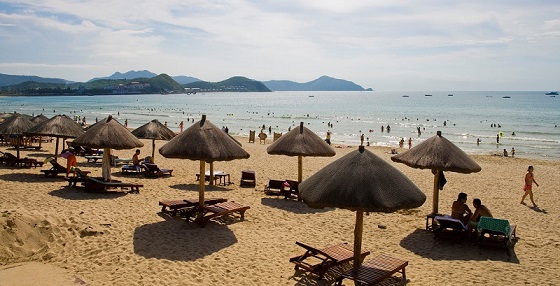 Transportation: Bus or taxi from Phoenix International Airport directly to reach directlyTaxi or bus No.2 or No. 4 from downtown area to Dadonghai.
  Sightseeing bus (10 minutes once) special for tour line (from 7:15 to 19:00) to reachSanya BayIn addition to Asian Dragon Bay and Dadonghai, Sanya Bay is also an ideal place for vacation and leisure. Lying to the west of the city center, it stretches for 20 li (6.2 miles) from Sanya Harbor.
  From the city center, Sanyawan Road leads directly to the bay. As you pass along the road, you can see the greenbelt on both sides as wide as 80 meters (87.5 yards), like a tropical plants viewing garden. Here you can find some typical and valuable tropical plants, such as cycad, palm, madagascar palm and oil palm.
  The bay is surrounded by beautiful tropical scenery with a boundless sea view. The crystal clear blue sea stretches to the edge of the sky, while the waves lap the soft white sand. Across the sea, you will see two adjacent islands: Western Hawksbill Island and Eastern Hawksbill Island (commonly know as Western Island and Eastern Island). The Eastern Island is a garrison island with strict safety measures while the Western Island is open to the public. If you are interested in angling, you can reach the Western Island by motorboat as it has the biggest and best angling club of Sanya. There are many fish and you will return with great success. Furthermore, the island is famous for its limpid sea water and various benthoses.
  Additionally, as this bay is not far from the city center, it would be a good choice to wander along it after supper to feel the soft sea breeze and warm sea water, and view the sunset. As you walk along the it, you can see the fishermen trawling and hear their working songs resounding to the skies. If you want to taste the real life of the fishermen, you can join them. But remember, trawling is not easy work. The net is about 100 meters (109 yards) long and it takes nearly two or three hours to tow it up to the bank. Moreover, this scene can only be seen in this bay as fishing has been forbidden in Dadonghai and Asian Dragon Bay. Compared with those places, the sea water and sand in this bay are not as good; however it attracts millions of visitors with its advantages.
  As the bay is near the city center, it's very convenient to reach and is much cheaper to visit. Not only is it much quieter and less crowded, but it has the most beautiful sunsets and is safe for swimming as the sea is calmer. Also, it is a better choice to live here to taste the daily life of local people.