Repulse Bay, located in the southern part of Hong Kong Island, is the most spectacular bay in the region. Its name comes from a 19th century battle in which the British army repulsed attacking pirates. Today, the place is a luxurious residential area for dining, relaxation, and aquatic activities.
  The beach stretches long with clear azure blue water gently lapping the seashore. Its sand is golden and soft. With water temperatures ranging from 16℃ (60.8℉) to 26℃ (80.6℉) year round, it is a mecca for locals and visitors alike to escape the heat.
  Swimming is obviously popular and the bay is outfitted for safety with shark prevention nets and floating platforms. During the summer, lifeguards are on duty.
  Besides aquatic activities, there are extensive facilities for visitors. Barbecue racks are available under the shade near the beach. In addition, the area is dotted with hotels, supermarkets, and cafes. A lighthouse near the beach is a popular place to take photos. Watching the sunset is another popular pastime for visitors. The Zhenhai Tower Park, built in the traditional Chinese style, is located near the beach. Huge statues of the Queen of Heaven and the God of Mercy (Kwan-yin) sit in front of the park.The Repulse Bay Tower was rebuilt on the site of the Repulse Bay Hotel. Now, it's a building for residence. In its front is the Shopping Plaza. In it, many restaurants and shops can be found.
  Additionally, you may go to the Deep Water Bay, Middle Bay or South Bay, if time is not so pressing. They are all prefect bathing beaches, not far from the Repulse Bay.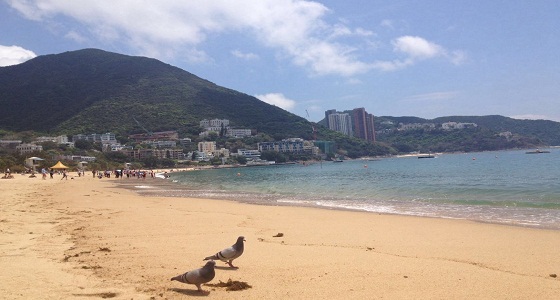 Repulse bay
  How to Get There:
  You can take the subway to get off at Central Station first and then go out of the station to the Exchange Plaza through the Exit A. At the Exchange Square, there are buses running there, including Buses No.6, 6A, 6X and 260. The bus ticket costs around HK$7.9. As the bus driver doesn't give you change, you'd better prepare some small money before getting on the bus.