The first landmark visitors will encounter in Xian is the ancient City Wall, which stretches round the old city. It is also one of the most famous attractions in Xian. Today, this wall represents one of the oldest and best preserved Chinese city walls, as well being one of the largest ancient military defensive systems in the world.
  The first city wall of Changan was begun in 194 BC. The existing wall was started during the Ming Dynasty in 1370. While built the wall, the south and west walls were constructed on the base of the wall of Tang Dynasty.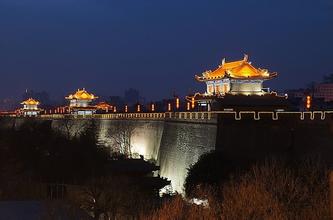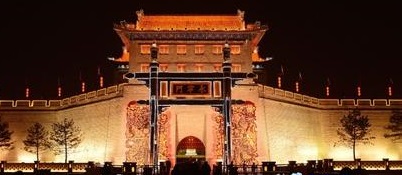 The whole construction lasted 8 years from 1370 to 1378. Later in 1568, in the top and outside of the wall were covered with black bricks. During the later of Ming Dynasty, in 1644, the governor of Shaanxi, Sun Chuangting, built barbicans at the four gates for guarding against the attack of Li Zhicheng. In 1643, Li Zhicheng Conquered Xian, proclaimed himself emperor, and titled his reigning dynasty as Da Shun. Basically following the Ming system, Qing Government renovated the city wall for 12 times.
  Xian City Wall was built on base of the Palace of Tang Dynasty. The existing wall was started during the Ming Dynasty in 1370; it is massive, measuring 13.7 km in circumference, 12 m in height, and 15–18 m in thickness at the base.
  There is an enemy tower every 120 meters standing out of the wall, as high as the city wall, which is used for shooting enemies. There are 98 enemy towers around the city wall. Out of the wall, there is a city moat, which is 20 m wide and 10 m deep, forming a complete defense system with the city wall.
  Xian Ancient City has four gates at south, north, east and west, the four directions: Changle Gate, Anding Gate, Yongning Gate and Anyuan Gate. Outside each gate, there is a barbican. Each gate has 3 buildings: the gate, the embrasured watchtower and the inner building. The inner building is 7-room wide, and 2-room deep, 36 m high, while the embrasured watchtower is 11-room wide, 2-room deep, with a height of 33.4 m. The embrasured watchtower has 4 layers of windows, and each window has 12 holes.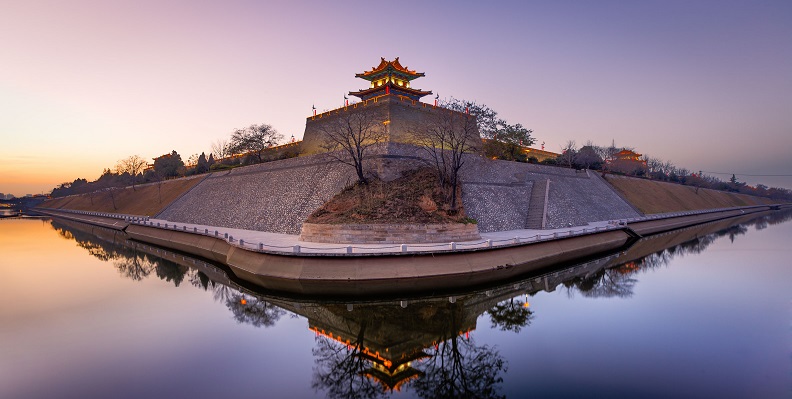 Xian City Wall International Marathon is held in the first Sunday of November each year. It is a kind of special tourism products in recent years. The competition has attracted a total of more than 4,000 foreign athletes from over 50 countries to participate in the competition since 1993. Today, the tournament has been named the State Sports General Administration and the National Tourism Administration as a national sports tourism gold project, and has a certain amount of international influence.